Definition of Microcrystalline Wax
Microcrystalline wax is a refined mixture of solid, saturated hydrocarbons, mainly branched paraffin, obtained from petroleum. In contrast to paraffins, microcrystalline waxes may vary widely in character depending on the crude-oil source and the method and degree of refinement. Some are ductile, like beeswax; others are hard and brittle; and still others crumble easily during handling. Microcrystalline waxes may be made from the residue of crude petroleum by refining; or they may be made from petroleum jelly by removing the oil with a solvent. Their physical properties may be controlled by the temperature of the solvents. Methods of separation include solvent dilution, chilling, centrifuging, filtering, and various combinations of these Chemically, microcrystalline waxes consist of saturated aliphatic hydrocarbons. Microcrystalline Wax is also known as Petroleum wax.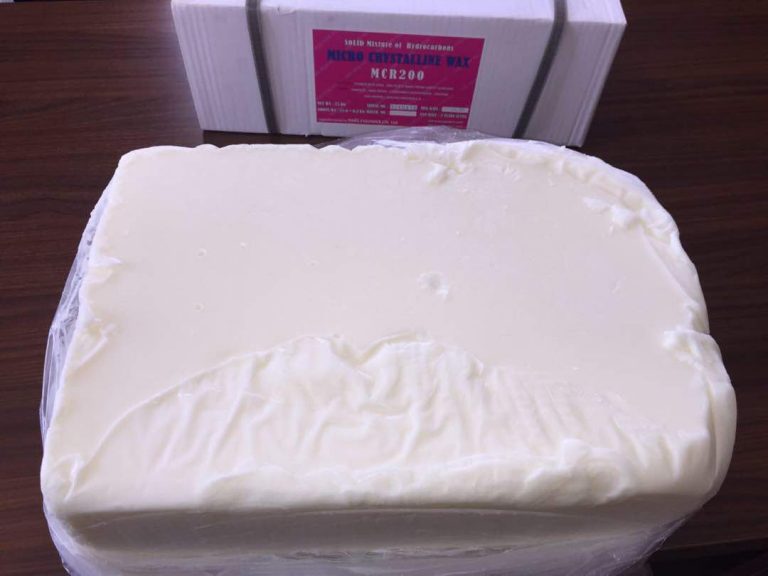 Application of Micro Crystalline Wax
Micro crystalline wax is commonly used in cosmetic formulations, glue manufacturing, and adhesives, skin care creams, inks, chewing gum, candles, rubber, gels, laminated paper products, in coatings and linings, in adhesives, sealing compositions, ointments and various types of polishes. It is also used in packaging & plastic industries.

Industries Users of Microcrystalline Wax:

1.Adhesives
2.Candles
3.Rodent Baits
4.Explosives & Pyrotechnics
5.Fertilizer Coating
6.Histology
7.Corrosion Protection
8.Construction Boards (e.g. Gypsum, MDF, Particle Boards)
9.Polishes (Car care, Shoe, Floor, Wood, etc)
10.Flexible Packaging
11.Cosmetics & Pharma
12.Textile & Leather
13.Chewing Gum (Gum Base)
14.Cheese Coating
15.Poultry
16.Crayons & Pencils
17.Fire Logs & Safety Matches
Packing of Micro Crystalline Wax
Regular packing in HJ OIL Co. is carton boxes. The products are produced in 5 Kg slabs. Each slab is put in the nylon bag and each 5 slabs are put in 1 carton boxes. Carton boxes are hard enough not to get damage because of their 5 hard layers. Also it is possible to make a bulk piece with 25 Kg weight.

We can also print or attach your brand on the carton boxes.