Oxidized Bitumen 150/5 Definition
Oxidized bitumen 150/5 is based on petroleum bitumen which is made by blowing bitumen 60/70 by hot air. This type of bitumen is hard and breakable. Oxidized bitumen 150/5 is the semi-solid oxidized grade of petroleum bitumen categorized in polycyclic aromatic hydrocarbons is normally used for different purposes in the construction industries. Bitumen 150/5 should be heated double temperature (200ᵒ-300ᵒC) against the softening point to be able to have flow and viscosity. Normally heating of such hard oxidized bitumen should be arranged via hot oil by circulation inside of the isolated jacket.
Bitumen oxide 150/5 from penetration grade bitumen, which is blown by hot air in a controlled process until the desired specification is reached. HJ Co. can be supplied in any grade.
The oxidized bitumen 150/5 means the softening point is 150 ° c and penetration is 15 desi millimeter.
During the loading period, HJ Co. guarantees the quality and quantity of 150/5 through the inspection of international inspectors, and controls the production through QC through the batch test report before shipment, and conforms to ASTM standard specifications.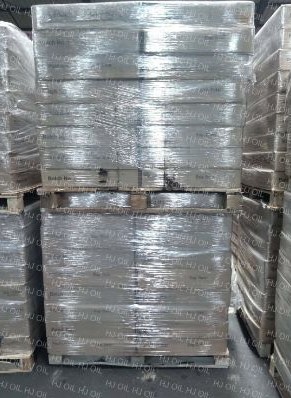 Oxidized Bitumen 150/5 Applications
Oxidized bitumen 150/5 uses in the chemical, raw material for bitumen coat, lacquers, varnishes, paper-pulp-board, textile processing, pavement, crack seal and repairmen, civil works, bitumen coat for piping, roofing, construction industries; sealing and insulating buildings, adhesive, construction materials additive, road construction, dust-binding, insulating and impregnating agent, isolation bitumen membrane sheet, make rubber and plastic products. bitumen 150/5 products are for paving, roofing; also used in asphalt-based paints for corrosion protection of metals, in lining public works structures, adhesives in electrical laminates, base for synthetic turf; typical uses for bitumen 150/5 include roofing, pipe coating, hydraulic applications, 150/5 is mainly using in paint manufacturing and coating in hot area.
Before using bitumen 150/5 surfaces must be dry, clean and free of loose particles, curing products, irregularities, and slurry. If you use this types of bitumen without cleaning the area the bitumen 150/5 will easily remove..
Blown Asphalt 150/5 Storage / handling
Blown asphalt 150/5 has 10 years validity with multi-time heating and cold, please refer to MSDS. It is better to keep the bitumen 150/5 under shelter and out of the rain, the sun.
Blown Asphalt 150/5 Packing
Bitumen 150/5 is available in 25 kg meltable and craft bag, drum, and bulk. Normally oxidized bitumen packing on the pallet and 40 bags can stack on the pallet. 20 pallet can load to the 20ft container.