Description of Bentonite
Bentonite is an absorbent swelling clay consisting mostly of montmorillonite. It usually forms from weathering of volcanic ash in seawater, which converts the volcanic glass present in the ash to clay minerals. Bentonite beds are white or pale blue or green in fresh exposures, turning to a cream color and then yellow, red, or brown as the exposure is weathered further.

Bentonite is a clay generated frequently from the alteration of volcanic ash, consisting predominantly of smectite minerals, usually montmorillonite. Other smectite group minerals include hectorite, saponite, beidelite and nontronite. Smectites are clay minerals, i.e. they consist of individual crystallites the majority of which are in largest dimension. Smectite crystallites themselves are three-layer clay minerals. They consist of two tetrahedral layers and one octahedral layer.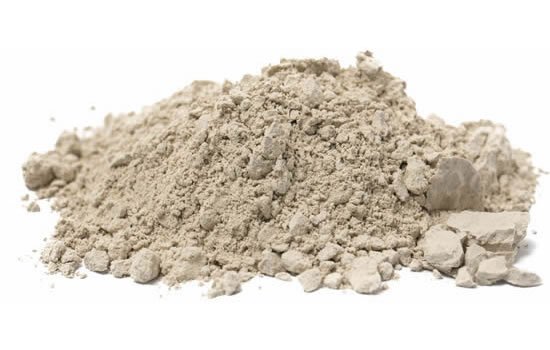 As a swelling clay, bentonite has the ability to absorb large quantities of water, which increases its volume by up to a factor of eight. This makes bentonite beds unsuitable for building and road construction.

However, the swelling property is used to advantage in drilling mud and groundwater sealants. The montmorillonite making up bentonite is an aluminum phyllosilicate mineral, which takes the form of microscopic platy grains. These give the clay a very large total surface area, making bentonite a valuable adsorbent.

The plates also adhere to each other when wet. This gives the clay a cohesiveness that makes it useful as a binder and as an additive to improve the plasticity of kaolinite clay used for pottery.

The alteration of volcanic ash frequently generated bentonite clay. Furthermore, it presents high colloidal properties. So, when coming into contact with water, its volume increases several times, creating a thick and viscous fluid.

The unique properties of it like Hydration, swelling, water absorption, viscosity, and thixotropy make it a valuable material for the broad range of usage and application. So, supplier takes advantage of these properties.

Because of its properties like hydration, swelling, water absorption, viscosity and thixotropy this product can vastly use in various industries. It applies in industries such as drilling mud, foundry, paper, construction, Iron binder, ceramic, pottery and etc.
Application of Bentonite
The main uses of bentonite are in drilling mud and as a binder, purifier, absorbent, and carrier for fertilizers or pesticides. As of around 1990, almost half of the US production of bentonite was used as drilling mud. Minor uses include as a filler, sealant, and catalyst in petroleum refining. Calcium bentonite is sometimes marketed as fuller's earth, whose uses overlap with those of other forms of bentonite.
Drilling mud:
Bentonite is used in drilling mud to lubricate and cool the cutting tools, to remove cuttings, and to help prevent blowouts. Bentonite also curtails drilling fluid invasion by its propensity for aiding in the formation of mud cake.
Much of bentonite's usefulness in the drilling and geotechnical engineering industry comes from its unique rheological properties. Relatively small quantities of bentonite suspended in water form a viscous, shear-thinning material. Most often, bentonite suspensions are also thixotropic, although rare cases of rheopectic behavior have also been reported.
At high enough concentrations (about 60 grams of bentonite per litre of suspension), bentonite suspensions begin to take on the characteristics of a gel (a fluid with a minimum yield strength required to make it move).
Binder:
Bentonite has been widely used as a foundry-sand bond in iron and steel foundries.
Sodium bentonite is most commonly used for large castings that use dry molds, while calcium bentonite is more commonly used for smaller castings that use "green" or wet molds.
Bentonite is also used as a binding agent in the manufacture of iron ore (taconite) pellets as used in the steelmaking industry. Bentonite, in small percentages, is used as an ingredient in commercial and homemade clay bodies and ceramic glazes.
It greatly increases the plasticity of clay bodies and decreases settling in glazes, making both easier to work with for most applications.
Purification:
Bentonites are used for decolorizing various mineral, vegetable, and animal oils. They are also used for clarifying wine, liquor, cider, beer, mead, and vinegar.
Bentonite has the property of adsorbing relatively large amounts of protein molecules from aqueous solutions. Consequently, bentonite is uniquely useful in the process of winemaking, where it is used to remove excessive amounts of protein from white wines.
Were it not for this use of bentonite, many or most white wines would precipitate undesirable flocculent clouds or hazes upon exposure to warm temperatures, as these proteins denature. It also has the incidental use of inducing more rapid clarification of both red and white wines.