Description of Cutback Bitumen RC-70
Cutback Bitumen RC-70 is Rapid curing (RC) cut-back asphalt consisting of penetration grade asphalt cement and diluent or cutter of rapid volatility. It that contains 55% bitumen, is black in color, and is manufactured strictly as per ASTM D-2028M standard.

Cutback Bitumen RC-70 is dissolved of bitumen in solvents of gasoline. In many countries, kerosene and other volatile petroleum-derived products are added as a cutter or cutback agent to bitumen to reduce (or cutback) the viscosity of the bitumen. The mixture obtained may be called cutback bitumen.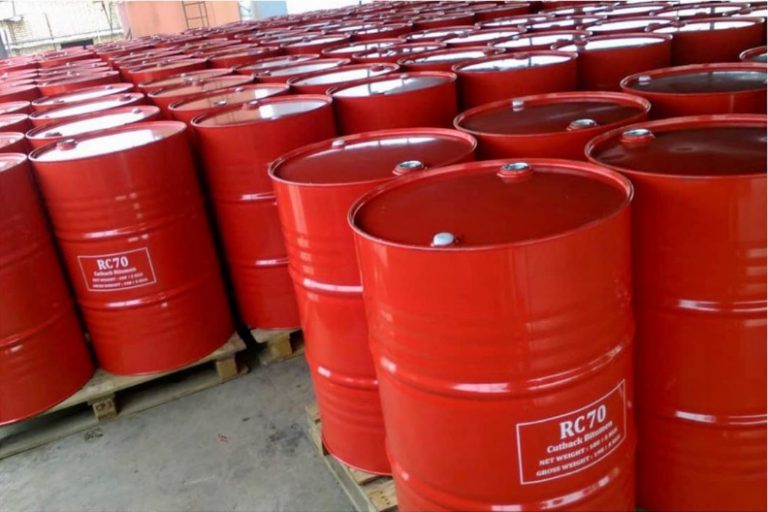 The penetration grade bitumens have a thermoplastic property which causes the material to soften at high temperatures and to harden at lower temperatures. This unique temperature/ viscosity relationship is important when determining the performance parameters such as the adhesion, rheology, durability, and application temperatures of bitumen.
The reduction in viscosity of the bitumen aids the construction of seal coats in road pavements as the softened mixture wets the chips more easily. The cutback agent evaporates from the seal coat, the cutback agent becoming a negligible component of the seal coat a few months after application. If significant amounts of the cutback agent remain in the seal coat an unwanted long term softening effect may result.
Application of Cutback Bitumen RC-70
Current common uses are in penetrating prime coats and in producing patching or stockpile mixtures. Cutback asphalt used in mixing with aggregate will usually contain an adhesion agent to assist in the coating of the aggregate surface.
Packing of Cutback Bitumen RC-70
Packing of cutback bitumen RC-70 is in new thick steel drum on the pallet to prevent any leak inside of the container, IBC Tank, and also bulk in bitutainer.
Guaranty and Safety of Cutback Bitumen RC-70
HJ OIL Co. guaranty quality of cutback Bitumen RC-70 with the arrangement of the international inspector. By checking the quality and quantity of the bitumen on each shipment during the loading to the vessel. Also controlling the production by QC team via batch test report before shipping.

Here are properties of Cutback Bitumen RC70 which is classified by ASTM/EN15322:2009.